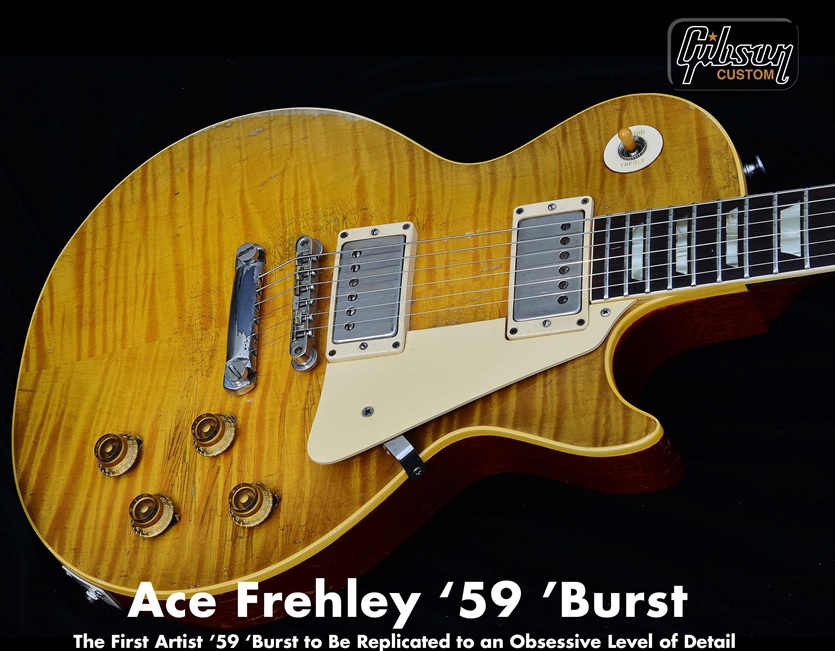 Its Finally here - the moment we have all been waiting for!
Your can purchase these guitars before they are all gone by clicking on either one and you can apply for our UP TO 60 MONTH FINANCING PLANS HERE to be sure you don't miss out as there are only so many coming into Canada you can reach us at 1-855-643-2787 option 1 to secure yours in today! Here are few words from Gibson Custom Enjoy.
"Ace Frehley '59 'Burst - CSAF59SFBNH & CSAF59SFBNH
To feel an original 1959 Les Paul 'Burst in your hands is an experience beyond description for most true players, but to know the pain of having, then losing, one of the most cherished guitars of your lifetime, is a story few have words to describe. Luckily for fans of the '59 Les Paul and Ace Frehley, one such story left a strong enough impression that Ace is able to recall many of the details of his original, lost '59. Based on those recollections, exhaustive research, and with Ace's final approval, Gibson Custom has collaborated with one of Rock's most accomplished players to bring a limited number of others the chance to feel and hear his beloved '59 as he recalls it. Gibson Custom and Ace Frehley are proud to present the Ace Frehley are proud to present the Ace Frehley '59, the first Artist '59 handcrafted to the obsessive level of detail of True Historic Specifications.
Based on Ace's recollections and recordings of the original, the Limited Edition Ace Frehley '59 by Gibson Custom is ready to be grasped, squeezed and forced to squeal at whim, as it was in the hands of the legendary Kiss guitarist. An absolute specimen to behold with a beautiful "dancing" figure in her top, a distinct "dirty lemon" fade, Ace's choice of hand-aged wear patterns (Aged version Only), and a tonal spectrum that ranges from throaty and bold to crisp and bell like with no more than a subtle knob turn and delicate change of aggression by the player. The Ace Frehley '59 'Burst by Gibson Custom comes together as if it were a wish list as much as a guitar.
All of this makes it only fitting that it's the first Artist '59 feature Gibson Custom's fanatical attention to detail when it comes to reproducing an original '59 Les Paul. Beginning with precisely accurate replica plastics that have been re-tooled to original Gibson specs from the 50's and reformulated through laboratory analysis of originals to match color and composition, a double carved, hand-sanded top to achieve an accurate vintage dish carve, a double carved and hand sanded neck to capture an original's neck profile, a hide glued top, hand filed rolled fingerboard binding for a silky, vintage playing feel, a thinner peghead veneer as found on original 50's Les Pauls and a thinner, hand wet-sanded finish that only Gibson Custom crafting can deliver. To match the tone that Ace recalls so vividly, two custom wound Custom Bucker pickups round off the guitar's most intricate feature.
The Ace Frehley '50 Burst is offered in a limited run of 50 hand aged by Tom Murphy and signed and played by Ace Frehley plus 250 in Gibson Custom's new Vintage Finish. In both versions, the ability to source qualifying maple top material will dictate both the final number produced and the time it takes to produce them.
50 Hand Aged, Signed and Played" Metal Engraved Ave Frehley Signed Certificate of Authenticity in a Leather Tri-Fold Binder, Gibson Custom Reissue Hardshell Case and 2015 Gibson Custom Die Cast Medallion Rhythm/Treble Switch Access Cover (extra Black Plastic cover included in the case).
250 Vintage Finish: Ace Frehley '59 Certificate of Authenticity In a Tri-Fold Binder, Gibson Custom Reissue Hardshell Case and 2015 Gibson Custom Die Cast Medallion Rhythm,Treble Switch Access Cover (extra Black Plastic cover included in the case).
Unique Figured Maple Top w/True Historic Carved Dish and Genuine 1 Piece Mahogany Back
1 Piece Genuine Mahogany Neck with Maple Spline
1 Piece Indian Rosewood
Aged Cellulose Trapezoid Inlay
Nylon Nut
Frehley Burst Finish
Reissue Deluxe Kluson Tuners
ABR Bridge with Thumbwheels
Lightweight Aluminum Tailpiece
Custom Bucker Alnico-3 Pickups
True Historic Holly Head Veneer with Pearl Gibson Inlay
Nickel Hardware
True Historic Plastics
True Historic Gold Top Hat Knobs
Metal, Engraved Certificate of Authenticity
50 Murphy Aged and Signed
250 Vintage Finish"
Recent Posts
Its Finally here - the moment we have all been waiting for!Your can purchase these guitars before th …

New Gibson Custom guitars.... mouth watering...Here at Tundra Music we have had the opportunity to s …

Available at Tundra Music to order immediately is the new Marshall Astoria Series. Be the firs …